Digital Cinema
Film/video production since 1983. Professional staff with over 60 years of combined experience.
Applications include: Corporate Marketing; Corporate/Institutional Training; TV commercials; Broadcast Programming; Documentaries, Independent Films Feature Film support and more.
Production Formats include: Digital Cinema 5k, 4k & 2k with Color Grade Correction; HD 1920 x 1080p ProRes video. Terran and Aerial camera platforms that utilize gyro-stabilized 3-axis brushless gimbals; camera cranes, dolly and sliders. Lighting packages range from portable LED 5600k & 3200k kits to full blown Lighting Grip & Electric (LGE) trucks.
Post Production suites capable of 5k, 4k, 2k and HD post-production, using i7-core processing power and graphic processing (GPU,) of 1344 Cuda Cores supporting After Effects; 3D animation; Sound Scoring; Blu-Ray disc authoring (not so much, lately;) multi-bit rate encoding for Live streaming, Web streaming, and more.
Website Design
DCI has been developing websites since 1995, and has owned a Tier 1 hosting platform since 1998.
DCI is an expert WordPress developer, building custom RESPONSIVE themes; or, DCI can customize a free or low-cost commercial theme. DCI has the ability to build custom plugins and widgets, and has access to over 30,000 proven plugins and extensions to achieve almost any feature, whether for a basic small business site or for an enterprise-level function or integration for large organizations – all for less cost and time than you might think.
DCI has created business websites, political websites, non-profit websites, custom product configurators and cost calculators, dealer locators, SQL scripted email parsers and auto-lead distribution to dealers, event calendars, WooCommerce e-commerce sites, social platforms, membership sites, performed complex/secure API integration and more.
DCI's tier-one hosting business is available to our clients. It is WordPress-centric and uses the latest Apache / PHP, WordPress Hosting with the latest cPanel back-end SSH access & control.
Search Engine Optimization
Key Word Research:
Keyword analysis needs to be done on a frequent basis. DCI begins by analyzing your competitor's practices. We study their Keywords and the Search terms a that generate traffic for them. We study the sites that link in to theirs to determine where your competitors are getting most of their traffic outside the search engines. If your competitors are running Search Engine or Social Media PPC campaigns, we study their PPC bid strategies. Keyword Analysis is the foundation for developing a successful Keyword optimization plan for your site, which also can be used to launch a successful, competitive PPC campaign.
Search Engine Optimization (SEO) and Site Map Indexing:
Based upon the Keyword research, and other traditional, periodic competitive analyses, DCI performs SEO optimization for your site using the latest XML sitemap generators and automated, periodic search engine submissions for proper indexing. We optimize your website's meta data (page titles, descriptions, keywords, post taxonomies and more,) and any other structured data on the site, to make it not only pertinent to your busines, but attractive to search engine robot crawlers; DCI makes sure to properly instruct robot crawlers to favorably index your site for first-page/top-of-page organic search engine results.
To restate all of the gobblety goop in a no less confusing way (Ha! Ha!) – we utilized backend software algorithms to dynamically generate properly structured XML sitemaps, with custom robot crawler instructions per indexed item (pages, media, articles, etc.,) and automatically submit the index to Google, Bing, Yahoo and other key search engines. The goal: land your business at or near the ORGANIC TOP of page one search results for the most often used search terms that people use to find businesses like yours! WHEW!!!
Search Engine Marketing & PPC
DCI is expert on implementing effective pay per click campaigns to strategically bid and purchase top-of-page opportunities, taking them away from competitors. This requires periodic monitoring and management, developing variable bid strategies based on competitor activity and general customer-based behaviors and demographics. DCI has a proven, successful track record generating higher than average results on Facebook and Google Ad Words, reaching over 3% CTR and 6% CTR respectively on a regular basis. Pixel tracking and remarketing (literally following a prospect around the web to serve up your ad,) make a strong adjunct to any social marketing campaign.
DCI has the skills to generate impactful graphic banners and can also generate video banners using the latest HTML5 video formats. Banner ad placements can be a very successful addition to any online campaign, but DCI generally advises to move cautiously into this space, as it tends to be expensive and typically generates lower performance than Facebook and Google. Many other activities will boost your online performance: article publications in forums and blogs; link-back exchanges from top search portal sites using ONLY industry standard white-hat SEM practices; strategic and intentional use of Social Media networks to drive traffic back to the website (SEE PHOTO CONTEST CASE STUDY.)
Social Media
DCI builds and maintains social media business pages for our clients. Facebook, Google+/Google Brand/Business Pages, Twitter, LinkedIn, YouTube and Instagram.
Once your channels are setup and properly branded, DCI will engage users on your behalf (and with your prior approval) with dynamic content, and push them to your website. DCI will prioritize posts to DRIVE TRAFFIC TO YOUR WEBSITE. You should NEVER link off to another, un-related site, without a specific purpose, and without FIRST providing an opportunity for the user to link to your site.
DCI can strategically use dynamic video, audio and animated content/stingers and branding techniques to captivate and engage Social Media followers, and drive into specific landing pages on your site, including the process of channeling them through a lead capture system.
DCI will track and measure your social media pages to ensure you capitalize on opportunities (conversations) and minimize threats (negative comments.)
Mobile
Mobile websites grew 8 times faster than the Internet grew in the 1990's!
When DCI first started offering mobilization of websites in 2010, we built a platform that would create a mobile website by pulling elements in realtime from the main website, serve that content up in a different way to be better viewed on mobile devices. This operated on a separate server and required some maintenance when the main "desktop" site was updated.
Over the years, DCI has COMPLETELY migrated from this practice. The BEST way to go mobile, is to build a "RESPONSIVE" website, like the one you are reading now! DCI is expert at designing responsive, WordPress themes and websites, providing you with only one site to build and maintain.
IN FACT, it is critical to make sure that your site is MOBILE savvy FIRST, and Desktop savvy second. Why? Over half of all web traffic is from mobile devices. We have tracked many of our sites that receive the majority of its links from Facebook business pages being served up on mobile devices.
RESPONSIVE is the ABSOLUTE BEST WAY!
FB PHOTO CONTEST CASE STUDY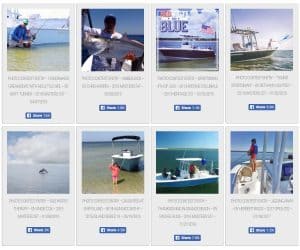 DCI developed a FACEBOOK Photo Contest for Sportsman Boats. In 2016 it resulted in 193 entries and 16,065 Facebook shares. The Contest generated a REACH of 5,429,970 people – with testimonials, recommended by a friends or family! This created more FREE impressions than the PAID Facebook Ads and Google Ads combined for the same time period.
The HOLY GRAIL of Social Media is the FACEBOOK® Share. The Average Number of Friends for each FB user is 338. That means, every time one of your posts is "SHARED," it shows up 338 times on friends' News Feeds. IT IS AN ENDORSEMENT FROM A FRIEND, TO LOOK AT THIS POST. The Post itself is a TESTIMONIAL, which is the most powerful marketing tool in your toolbox. A FB photo contest for your product or service engages your customers, their family and friends, and promotes a testimonial with the potential to go VIRAL! The Contest Platform that DCI developed includes custom coded Gravity Forms, custom WordPress Post Templates, and APIs with FACEBOOK'S® Developer Tools.
FB ADS CASE STUDIES

DCI has been successfull at building FACEBOOK® Ads and BOOSTING POSTS on Facebook® to generate significant, highly targeted, qualified traffic to Clients' websites. FACEBOOK® Ads have shown to be more cost effective with typically higher CTRs (click through rates,) and allow more detailed and robust demographics, user behaviors, and more for better targeting. We TARGET THE RIGHT AUDIENCE, WITH THE RIGHT MESSAGE, USING THE MOST COMPETIVE, AFFORDABLE TACTICS TO OPTIMIZE RESULTS FOR OUR CLIENTS. CLICK IMAGES BELOW TO ENLARGE
GOOGLE ADS CASE STUDIES
DCI has been successful at building GOOGLE Adwords for our clients that soar to the top of the search results for researched, competitive Keywords. Our bidding strategies generate far above average CTRs (click through rates) and CPCs (costs per click) for PPC (pay per click) campaigns. We TARGET THE RIGHT AUDIENCE, WITH THE RIGHT MESSAGE, USING THE MOST COMPETIVE, AFFORDABLE TACTICS TO OPTIMIZE RESULTS FOR OUR CLIENTS. CLICK IMAGES BELOW TO ENLARGE